M T Box Designs is poised to help Businesses Grow!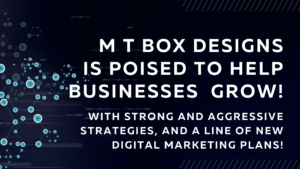 M T Box Designs now ONLY offers full service marketing, marketing done RIGHT!
Full service = your website, social media, digital marketing (e.g., Google, SEO), email, and staff training for upsell, retention, and advocacy.
The well established marketing business is geared up to offer businesses all of the digital marketing needed to succeed.  Michele, owner of M T Box Designs, tells us why it is important to take your marketing seriously, as a business you need to spend money to make money and doing that in only one place is not going to work.  "Spending all of your money on only print ads will only get your business in front of the print ad "eyes",  you need to spread your marketing budget across all possible media", Michele says.
Once you put all of your ad dollars out there, then what happens?  M T Box Designs creates a website for you to capture all of the eyes and all of their emails!
Each marketing campaign that is created throughout the year should be accompanied with a page on your website, a page that encourages viewers to sign up for something, to give their email to be used later to follow up or to send future promotions.
Marketing campaigns start on social media, search engine ads and print and even on radio or TV!   And continue to the business' website and then calls, store visits, emails, or online purchases. And from there staff training for upsells, customer retention, and customer reviews! ⭐⭐⭐⭐⭐
M T Box Designs knows how to run these campaigns from the start to finish!  With over 20 years experience in business and marketing and their combined knowledge of nearly double that,  new or well established businesses are in great hands with M T Box Designs!
Take a look at the new digital marketing plans HERE.
M T Box Designs! Digital Marketing for Business owners that have no time!